Challenge of the Sphinx is an mission event that occurs between October 10 and November 7 2017. It takes the theme of Egyptian Gods.
New Ability
[
]
Increase Item Reach
Sidekick can increase the range you can reach to a drop item.
New Sidekicks
[
]
New Rarities:
Epic is between Rare and Legendary.
Mythic is above Legendary.
Description:
Each of these sidekicks is imbued with magnetic magic, adding to your item and coin collection radius, in addition to other powers.
Halla
▶
Heliodor
▶
Diablesse

52
88
110
113
141
188
+40 Item Reach, doubles Gems from Monsters
Rumi
▶
Roma
▶
Rochelais

52
88
110
113
141
170
+40 Item Reach, finds 25% more Treasure Chests
Balou
▶
Balouja
▶
Baloubet

54
91
114
117
147
173
+40 Item Reach, +50% dmg to Bosses
Heros
▶
Havanna
▶
Hartumas

56
95
119
122
152
188
+40 Item Reach, +40% Gems from Treasure Chests
Pharis
▶
Pharion
▶
Pharocius

62
105
132
135
169
209
Prismatic Homing attack, +40 Item Reach, +50% dmg to Bosses
Note: These can be found by open

Royal Sphinx Egg. Because you can no longer find the egg,

Rumi,
Halla,

Balou,
Heros and
Pharis are currently unavailable.
New Mission
[
]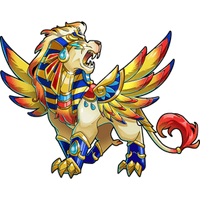 How to get Pharocius:
During the event time, complete Missions to unlock Pharocius or 1 of 5 other new and exclusive sidekicks of the Royal Sphinx's Guard.
Description:
In the hidden, ancient dunes, deep within the sandstorms of the Whisperwind Desert, Sophia discovered a pyramid and tomb complex dating back to times before recorded history. There she found the Royal Shpinx's Guard, protecting a secret that's lain dormant for millenian: The Force of Elements.
The discovery of the Force of Elements has allowed the Guardians to unlock the Elemental Weaknesses of their enemies. Sidekicks now deal 50% bonus damage against bosses whose weakness matches their element. The Royal Sphinx Pharocius is imbued with the Prismatic Element, which is strong against all other Elements.
Gallery
[
]