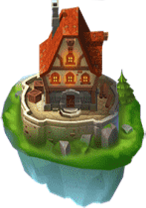 Level can be defined as each of a series of stages of increasing difficulty through which a player may progress, completing one stage in order to reach the next. But as a player progresses, the player gains some sort of an experience. By this, we can also define level, as in player's level, as the player's status based on xp (experience) gained.
Either way, this page will tackle everything related to overall progress in the game as well as the leaderboard.
Game Levels
Each level of the game is composed of multiple waves of monsters, varying number of meteors, and 1 Boss at the end. Each level is differentiated by the monsters, Boss, and level location. Locations changes one after another.
Level Locations
Currently, there are a total of 11 level locations in the game: 8 regular level locations, 2 event level locations, and a new uncertain one. Regular level locations are the same adventure locations in quests. Event level locations, on the other hand, are special level locations released only for certain events and will soon expire.
Location Transition and Order
For every level location, players will have to deal with 3 Bosses, meaning, there are 3 levels for each. After every 3 levels, location transition occurs signified by clouds along the screen, always. The next location is randomized systematically and follows some kind of order. Certain locations are grouped to appear first than others.
Order of Appearance
Group
Level Locations That Might Appear
1st
Group 1
Whispering Forest
Mystic Islands
Silverwind Desert
Spirit Forest*
2nd
Group 2
Cloud Peak Mountains
Darkfire Volcanos
Shadow Dojo
3rd and so on
Group 3
The Neverend
City of Storms
Unknown Mek Level Location
Spirit Forest*
Challenge of the Sphinx Mission
Whisperwind Desert
*Included for the Spirit Festival Event
Player's XP Level

Players gain xp every game. XP is based on points (no. of coins acquired) and monsters killed. XP Level capacity is Level 50. The higher XP Level, the more perks to unlock.
Player's XP Calculation
player xp = monsters killed + (bosses killed * 50)

Player's XP Per Level & Unlockable Perks
Level
XP to Unlock

(Per Level)

Coin

Bonus

Unlocks
Characters
Quests
Boosters
1
–
200
Alice
Whispering Forest

Mystic Islands

2
500
400
3
1100
600
Fiona

Sophia

4
1800
800
5
2600
1000
6
3500
1200
Lily
7
4500
1400
8
5500
1600
Silverwind Desert
9
6500
1800
10
7500
2000
Arcane Blast

Relay Totem

11
8500
2200
12
9500
2400
13
10500
2600
Cloud Peak Mountains
14
11500
2800
15
12500
3000
Time Freeze
16
13500
3200
17
14500
3400
18
15500
3600
19
16500
3800
Aurora
20
17500
4000
Speed Rush
21
18500
4200
22
20000
4400
Darkfire Volcanoes
23
21500
4600
24
23000
4800
25
24500
5000
Lenore
26
26000
5200
27
27500
5400
28
29000
5600
29
30500
5800
30
32000
6000
The Neverend
31
33500
6200
32
35000
6400
33
36500
6600
34
38000
6800
35
39500
7000
36
41000
7200
37
42500
7400
38
44000
7600
39
45500
7800
40
47000
8000
41
48500
8200
42
50000
8400
43
50000
8600
44
50000
8800
45
50000
9000
46
50000
9200
47
50000
9400
48
50000
9600
49
50000
9800
50
50000
10000