* Visit Sidekicks/Damage Chart for detailed damage chart regarding sidekicks.
* Visit Sidekicks/Skills for list of sidekick skills.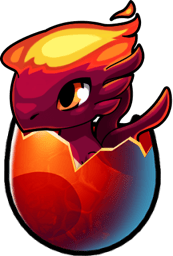 This page contains the list of all known sidekicks. As of June 2 2018, there are a total of 110 dragons: 13 Common, 17 Rare, 20 Epic, 46 Legendary and 14 Mythic.
Note that all damage information is written regardless of the Elemental Weakness, so the damage input may be different when attacking a boss with Elemental Weakness advantage. In order to get the max damage input with Elemental Advantage, just multiply the values in Max Damage column to 1.50 (this adds the +50% elemental bonus).
Notes
*Arcana Dragonspell(source): The Guardian Arcana may cast up to four different spells (Shockwave, Timeslow, Gemfire and Rush) when combined with specific sidekicks. The type of spell(s) cast depends on the sidekick's abilities:
Dragonspell: Shockwave

- Cast if a cloned sidekick has a damage-type ability (Homing, Bombastic, etc)
- Deals 500 x Arcana's bullet level, up to 35k, to all enemies on screen as it travels

Dragonspell: Timeslow

- Cast if a cloned sidekick has a slowing-type ability (Charm, Chilling Breath, etc)
- Slows all time by 80%, increasing back to normal speed over 1.5 seconds

Dragonspell: Gemfire

- Cast if a cloned sidekick has a treasure-type ability (Magpie, Treasure Hunter, etc)
- Treasure sidekicks spawn up to 6 gems of a quality equivalent to the current monster level

Dragonspell: Rush

- Cast if a cloned sidekick has an item-type ability (Scavenger, Rush Hour, etc)
- Rush forward for 2 seconds, smashing through monster waves and invulnerable to damage
These spells are combined with the Illusion spell which clones dragons. Sidekicks without any affected skills do not cast dragonspells. Dragons with the skill Wild Card, such as Ursus (as to Urseus & Urselius) and Jes (as to Jesper & Trixoticus) casts all dragonspells. The 2nd column from right in the table below indicates which dragonspell(s) that sidekick will cast when using Arcana.
---
**Poison Effect: The Poison is an added side effect invoked by the skill Poison Breath. Once the enemy gets hit, they take damage equal to 5 times the damage of one shot over 2 seconds of time. Knowing that sidekicks attack at a rate of 10 shots per second, this means that poison effect is equivalent to 5 times the base damage distributed in 20 shots, or 25% of the base damage per shot in 2 seconds. This damage won't stack if the enemy is hit multiple times, meaning, the duration of the poison damage will just reset.
---
↑Power Shot: Max Damages with this mark indicates the value that was calculated along with the skill Power Shot's damage, which deals damage equal to 10 times the damage of one shot over 5 seconds of time. It is equivalent to 10 times the base damage distributed in 50 shots, or 20% of the base damage per shot in 5 seconds.
---
IIExpired: Dragons with this category fall into the Event Dragons that were expired (for a while). They're only available if an event associated with them is up. So far, Dragon evolution families for Egg Events Magnanimous Unleashed (Magnis), Dragons of the Lost City (Ursus), Challenge of the Sphinx (Heros, Rumi, Casp, Halla, Balou, and Pharis), and Prismaticus Awakens (Pris) are the ones can usually be available during the Egg Event. Some Egg Events may return for some time; or other events such as Monster Bash the Raid Event may offer one or more of them.
Featured Sidekicks
Type
Rarity
Sidekick
Max Damage
Arcana Dragonspell*
Class
Light
Mythic

Ton
▶
Tohnna
▶
Tohnati

61
98
118
122
147
196
Flower PowerBoss KillerAmplify

294 (Bosses)
196 (Monsters)
Shockwave
Rush
Striker
Shadow
Mythic

Mici
▶
Misti
▶
Micticas

67
108
129
134
161
215
Flower PowerAmplifyScavenger

215
Shockwave
Rush
Chaser
Type
Rarity
Sidekick
Max Damage
Arcana Dragonspell*
Class
Fire
Legendary

Furni
▶
Furnaxus
▶
Praefurnium

60
96
116
120
144
192
Ice Queen KillerBoss Killer

432 (Ice Queen)
288 (Bosses)
192 (Monsters)
Shockwave
Striker
Light
Legendary

Cygna
▶
Cygnel
▶
Cygnelia

60
96
116
120
144
192
Queen KillerBoss Killer

432 (Monster Queen)
288 (Bosses)
192 (Monsters)
Shockwave
Striker
Nature
Legendary

Lacertis
▶
Lacerus
▶
Laceratius

60
96
116
120
144
192
Fluffy KillerBoss Killer

432 (Fluffy)
288 (Bosses)
192 (Monsters)
Shockwave
Striker
Water
Legendary

Volt
▶
Lantis
▶
Voltantis

60
96
116
120
144
192
Mekaniak KillerBoss Killer

432 (Dr. Mekaniak)
288 (Bosses)
192 (Monsters)
Shockwave
Striker
All Sidekick List
※ The Damage stat of Dragons with the Brute Force, Dual Spread, or Triple Spread skill(s) already take the skill effect into account. Therefore, a Triple Spread Dragon with 100 DMG deals 100 DMG (per 1 bullet), not 50; the same applies for the other two skills.
※ Note that the damage value given to each template represent following levels with Zodiac bonus tier:
Stage 3

Lv.30 1/3
Lv.30 2/3
Lv.30 3/3
Mouse over the skill icon image to see tooltip, and search a particular skill by Ctrl + F with skill's name as a keyword. (Desktop Only)
Type
Rarity
Sidekick
Max Damage
Arcana Dragonspell*
Class
Fire
Common

Raggles
▶
Rageon
▶
Ragore

50
80
96
100
120
160
Monster Killer

208 (Monsters)
160 (Bosses)
Shockwave
Chaser
Fire
Common

Rex
▶
Raxillius
▶
Renosaur

50
80
96
100
120
160
Goldsmith

160
Seeker
Fire
Common

Viking
▶
Viktron
▶
Viktorius

56
88
106
111
132
177
Brute Force

177
Striker
Fire
Rare

Cinde
▶
Voladile
▶
Infernus

52
84
100
104
125
167
Bombastic

167
Shockwave
Chaser
Fire
Rare

Fea
▶
Feanor
▶
Feandroth

50
80
96
100
120
160
Rush Hour

160
Rush
Chaser
Fire
Rare

Cretis
▶
Toxicus
▶
Mordroth

52
84
100
104
125
167
Poison Breath

208.75**
Shockwave
Striker
Fire
Rare

Kiin
▶
Kigi
▶
Kiwig

46
74
89
92
111
148
Boss KillerAmplify

222 (Bosses)
148 (Monsters)
Shockwave
Rush
Striker
Fire
Epic

Lavabolt
▶
Magmech
▶
Vulcanic

35
55
66
69
83
110
Dual SpreadBombastic

220 (2 bullets)
Shockwave
Chaser
Fire
Epic

Feri
▶
Fieri
▶
Fiersun

57
92
110
114
137
183
Rush Hour

183
Rush
Chaser
Fire
Epic

Scorch
▶
Scorcio
▶
Scorciatus

56
88
106
111
132
177
Trick or TreatBombastic

177
Shockwave
Seeker
Fire
Epic

Ara
▶
Ares
▶
Martius

57
92
110
114
137
183
PathfinderBoss Homing

183
Striker
Fire
Legendary

Mara
▶
Maradon
▶
Maranasaur

66
106
127
132
159
212
HomingBrute Force

212
Shockwave
Striker
Fire
Legendary

Avi (Old)
▶
Avalon (Old)
▶
Suldal (Old)

36
58
70
72
87
116
Dual SpreadMagpie

232 (2 bullets)
Shockwave
Gemfire
Seeker
Fire
Legendary

Xiaolong
▶
Huolong
▶
Jinlong

62
100
120
124
149
199
AmplifyScavenger

199
Rush
Chaser
Fire
Legendary

Magnis
▶
Magmus
▶
Magnanimous

60
96
116
120
144
192
Spike KillerBoss Killer

432 (Spike)
288 (Bosses)
192 (Monsters)
Shockwave
Striker
Fire
Legendary

Stoke
▶
Forge
▶
Bellows

57
90
108
113
135
180
Power ShotGoldsmithRush Hour

216↑
Shockwave
Rush
Chaser
Fire
Legendary

Heros
▶
Havanna
▶
Hartumas

57
90
108
113
135
180
Sticky ClawsGoldsmithPay Day

180
Gemfire
Rush
Seeker
Fire
Legendary

Zio
▶
Zoca
▶
Ziocatel

60
96
116
120
144
192
HomingFlower Power

192
Shockwave
Chaser
Fire
Legendary

Lanci
▶
Lanceo
▶
Lancelot

58
93
112
116
140
186
ChampionHomingSynergy

223.2 (Bosses & Goblins)
186 (Monsters)
Shockwave
Striker
Fire
Legendary

Furni
▶
Furnaxus
▶
Praefurnium

60
96
116
120
144
192
Ice Queen KillerBoss Killer

432 (Ice Queen)
288 (Bosses)
192 (Monsters)
Shockwave
Striker
Fire
Legendary(Raid only)

Minya
▶
Minyara
▶
Maximar

30
48
58
60
72
96
Triple SpreadBoss Killer

432 (Bosses & 3 bullets)
288 (Monsters & 3 bullets)
Shockwave
Striker
Fire
Legendary(Raid only)

Bae
▶
Baucis
▶
Baucisius

67
107
128
133
160
213
Roses Are RedBoss Homing

213
Shockwave
Striker
Fire
Mythic

Avi
▶
Avalon
▶
Suldal

39
63
75
78
94
125
Dual SpreadMagpieScavenger

250 (2 bullets)
Shockwave
Gemfire
Rush
Seeker
Fire
Mythic

Ted
▶
Theo
▶
Theodore

65
104
125
130
156
208
Snow ConeAmplifyScavenger

208
Timeslow
Rush
Chaser
Light
Common

Bauble
▶
Lumen
▶
Emprer

50
80
96
100
120
160
Goldsmith

160
Seeker
Light
Rare

Glowbean
▶
Gloria
▶
Glorious Rex

50
80
96
100
120
160
Treasure Hunter

160
Gemfire
Seeker
Light
Rare

Estel
▶
Estellis
▶
Lysenthius

52
84
100
104
125
167
Scout

167
Seeker
Light
Epic

Furlix
▶
Furline
▶
Furleone

56
88
106
111
132
177
HomingSlow Aura

177
Shockwave
Timeslow
Chaser
Light
Epic

Roa
▶
Rolan
▶
Rolandron

59
95
114
118
142
189
Scavenger

189
Rush
Chaser
Light
Epic

Rumi
▶
Roma
▶
Rochelais

53
85
102
106
128
170
Sticky ClawsTreasure Hunter

170
Gemfire
Rush
Seeker
Light
Legendary

Loreen (Old)
▶
Lureli (Old)
▶
Lurelith (Old)

58
93
112
116
140
186
HomingBoss Killer

279 (Bosses)
186 (Monsters)
Shockwave
Striker
Light
Legendary

Sparx
▶
Sparkene
▶
Sparzelle

62
99
119
124
148
198
Power ShotBoss KillerBrute Force

356.4↑ (Bosses)
237.6↑ (Monsters)
Shockwave
Striker
Light
Legendary

Sar
▶
Anga
▶
Sarangay

36
58
70
72
87
116
Dual SpreadHoming

232 (2 bullets)
Shockwave
Striker
Light
Legendary

Cony
▶
Chrysos
▶
Cornelius

64
103
123
128
154
205
Trick or TreatBrute ForceScavenger

205
Rush
Seeker
Light
Legendary

Mina
▶
Minne
▶
Minerva

60
96
116
120
144
192
Snow ConeMagnetic

192
Timeslow
Rush
Seeker
Light
Legendary

Aero
▶
Aeron
▶
Aetherion

58
93
112
116
140
186
PathfinderRush HourPay Day

186
Gemfire
Rush
Seeker
Light
Legendary

Cygna
▶
Cygnel
▶
Cygnelia

60
96
116
120
144
192
Queen KillerBoss Killer

432 (Monster Queen)
288 (Bosses)
192 (Monsters)
Shockwave
Striker
Light
Legendary(Raid only)

Sunn
▶
Lune
▶
Celeste

60
96
116
120
144
192
Slow AuraTreasure Hunter

192
Timeslow
Gemfire
Seeker
Light
Legendary(Raid only)

Kit
▶
Swift
▶
Vicza

31
50
60
62
75
100
Triple SpreadCharm

300 (3 bullets)
Shockwave
Timeslow
Chaser
Light
Mythic

Loreen
▶
Lureli
▶
Lurelith

63
101
121
126
152
202
HomingBoss KillerSlow Aura

303 (Bosses)
202 (Monsters)
Shockwave
Timeslow
Striker
Light
Mythic

Ton
▶
Tohnna
▶
Tohnati

61
98
118
122
147
196
Flower PowerBoss KillerAmplify

294 (Bosses)
196 (Monsters)
Shockwave
Rush
Striker
Light
Mythic

Max
▶
Maxus
▶
Maximilian

67
108
129
134
161
215
ChampionLuckyScavenger

258 (Bosses & Goblins)
215 (Monsters)
Rush
Striker
Nature
Common

Flo
▶
Flora
▶
Florastyx

50
80
96
100
120
160
Monster Killer

208 (Monsters)
160 (Bosses)
Shockwave
Chaser
Nature
Common

Lastro
▶
Landaro
▶
Landadel

56
88
106
111
132
177
Brute Force

177
Striker
Nature
Common

Pika
▶
Pikito
▶
Pikadron

50
80
96
100
120
160
Goldsmith

160
Seeker
Nature
Rare

Moss
▶
Shrubb
▶
Forrest

50
80
96
100
120
160
Treasure Hunter

160
Gemfire
Seeker
Nature
Rare

Raiia
▶
Raiianus
▶
Ray & Ian

32
50
60
63
75
100
Dual Spread

200 (2 bullets)
Shockwave
Chaser
Nature
Rare

Pong
▶
Lampi
▶
Lampong

50
80
96
100
120
160
Magpie

160
Gemfire
Seeker
Nature
Epic

Trib
▶
Tribiani
▶
Tribanea

59
95
114
118
142
189
Scavenger

189
Rush
Chaser
Nature
Epic

Eve
▶
Levee
▶
Leavesley

56
88
106
111
132
177
Power ShotAmplify

212.4↑
Shockwave
Rush
Chaser
Nature
Epic

Lumi
▶
Lucerna
▶
Lumina

56
88
106
111
132
177
Trick or TreatHoming

177
Shockwave
Chaser
Nature
Epic

Gigi
▶
Gaea
▶
Terra

59
95
114
118
142
189
PathfinderScavenger

189
Rush
Chaser
Nature
Legendary

Skout
▶
Sage
▶
Tuskan

62
100
120
124
149
199
AmplifyScavenger

199
Rush
Chaser
Nature
Legendary

Kyu
▶
Fleure
▶
Amorice

62
100
120
124
149
199
CharmTreasure Hunter

199
Timeslow
Gemfire
Seeker
Nature
Legendary

Coqi (Old)
▶
Coquira (Old)
▶
Coqistar (Old)

60
96
116
120
144
192
BombasticTreasure Hunter

192
Shockwave
Gemfire
Seeker
Nature
Legendary

Casp
▶
Castillan
▶
Conthargos

60
96
116
120
144
192
Sticky ClawsBoss KillerMonster Killer

288 (Bosses)
249.6 (Monsters)
Shockwave
Rush
Striker
Nature
Legendary

Blip
▶
Blitzer
▶
Blitzen

58
93
112
116
140
186
Snow ConeRush Hour

186
Timeslow
Rush
Chaser
Nature
Legendary

Soch
▶
Sopill
▶
Sochipilly

60
96
116
120
144
192
Flower PowerRush Hour

192
Shockwave
Rush
Chaser
Nature
Legendary

Melo
▶
Melos
▶
Rhapsodus

62
100
120
124
149
199
ChampionHomingMadcap

238.8 (Bosses & Goblins)
199 (Monsters)
Shockwave
Rush
Chaser
Nature
Legendary

Lacertis
▶
Lacerus
▶
Laceratius

60
96
116
120
144
192
Fluffy KillerBoss Killer

432 (Fluffy)
288 (Bosses)
192 (Monsters)
Shockwave
Striker
Nature
Legendary(Raid only)

Tsijari
▶
Tanok
▶
Itzamatul

60
96
116
120
144
192
Boss KillerPoison Breath

360** (Bosses)
240** (Monsters)
Shockwave
Striker
Nature
Legendary(Raid only)

Nik
▶
Niko
▶
Nikolas

62
100
120
124
149
199
LuckySticky Claws

199
Rush
Chaser
Nature
Mythic

Coqi
▶
Coquira
▶
Coqistar

63
101
121
126
152
202
BombasticSticky ClawsTreasure Hunter

202
Shockwave
Gemfire
Rush
Seeker
Shadow
Common

Moonbite
▶
Moonchomp
▶
Mooneater

56
88
106
111
132
177
Brute Force

177
Striker
Shadow
Common

Gilli
▶
Giljan
▶
Giljanero

56
88
106
111
132
177
Brute Force

177
Chaser
Shadow
Common

Chesyre
▶
Chesall
▶
Zimequest

50
80
96
100
120
160
Goldsmith

160
Seeker
Shadow
Common

Ilco
▶
Ilcode
▶
Ilcogena

50
80
96
100
120
160
Goldsmith

160
Seeker
Shadow
Rare

Clipsy
▶
Astreon
▶
Eclipsis

50
80
96
100
120
160
Homing

160
Shockwave
Chaser
Shadow
Rare

Bullet
▶
Gladius
▶
Silvar

50
80
96
100
120
160
Boss Killer

240 (Bosses)
160 (Monsters)
Shockwave
Striker
Shadow
Rare

Desmo
▶
Desmodius
▶
Desmodontes

52
84
100
104
125
167
Charm

167
Timeslow
Chaser
Shadow
Epic

Umbra
▶
Umbrathyst
▶
Umbrasaur

53
85
102
106
128
170
HomingMagpie

170
Shockwave
Gemfire
Seeker
Shadow
Epic

Fetora
▶
Miasmus
▶
Mephititus

56
88
106
111
132
177
Power ShotPoison Breath

265.5**↑
Shockwave
Striker
Shadow
Epic

Halla
▶
Heliodor
▶
Diablesse

53
85
102
106
128
170
Sticky ClawsMagpie

170
Gemfire
Rush
Seeker
Shadow
Epic

Ban
▶
Bakun
▶
Bakunawa

53
85
102
106
128
170
Boss KillerScavenger

255 (Bosses)
170 (Monsters)
Shockwave
Rush
Striker
Shadow
Epic

Som
▶
Somnus
▶
Erebus

59
95
114
118
142
189
PathfinderAmplify

189
Rush
Chaser
Shadow
Legendary

Riblets
▶
Numbskull
▶
Darkfrost

60
96
116
120
144
192
HomingChilling Breath

192
Shockwave
Timeslow
Chaser
Shadow
Legendary

Lethio (Old)
▶
Lordos (Old)
▶
Lordanos (Old)

30
48
58
60
72
96
Triple SpreadBoss Killer

432 (Bosses & 3 bullets)
288 (Monsters & 3 bullets)
Shockwave
Striker
Shadow
Legendary

Ven
▶
Venum
▶
Venumnarius

60
96
116
120
144
192
Trick or TreatMonster KillerPoison Breath

312** (Monsters)
240** (Bosses)
Shockwave
Chaser
Shadow
Legendary

Dasher
▶
Dancer
▶
Prancer

30
48
58
60
72
96
Snow ConeTriple Spread

288 (3 bullets)
Shockwave
Timeslow
Chaser
Shadow
Legendary

Jes
▶
Jesper
▶
Trixoticus

60
96
116
120
144
192
ChampionWild CardHoming

230.4 (Bosses & Goblins)
192 (Monsters)
Shockwave
Timeslow
Gemfire
Rush
Striker
Shadow
Legendary

Corvus
▶
Corvenor
▶
Corvenus

60
96
116
120
144
192
King KillerBoss Killer

432 (Monster King)
288 (Bosses)
192 (Monsters)
Shockwave
Striker
Shadow
Legendary(Raid only)

Eskari
▶
Escudo
▶
Etrusco

31
50
60
62
75
100
Triple SpreadChilling Breath

300 (3 bullets)
Shockwave
Timeslow
Chaser
Shadow
Legendary(Raid only)

Kram
▶
Kramp
▶
Krampus

64
103
123
128
154
205
MadcapPoison Breath

256.25**
Shockwave
Rush
Striker
Shadow
Mythic

Lethio
▶
Lordos
▶
Lordanos

33
52
63
65
78
104
Triple SpreadBoss KillerPoison Breath

585** (Bosses & 3 bullets)
390** (Monsters & 3 bullets)
Shockwave
Striker
Shadow
Mythic

Magi
▶
Magus
▶
Sorceros

32
51
61
63
76
101
Trick or TreatTriple SpreadPay Day

303 (3 bullets)
Shockwave
Gemfire
Seeker
Shadow
Mythic

Mici
▶
Misti
▶
Micticas

67
108
129
134
161
215
Flower PowerAmplifyScavenger

215
Shockwave
Rush
Chaser
Water
Common

Squirt
▶
Phinn
▶
Sailmander

56
88
106
111
132
177
Brute Force

177
Striker
Water
Common

Bubbles
▶
Seafoam
▶
Crestacia