m

m

Line 5:
Line 5:
 

</blockquote><div style="clear:both"></div>

 

</blockquote><div style="clear:both"></div>

 

[[File:Piggy bank 2.png|thumb|373x373px|When you click on the Piggy Bank]]

 

[[File:Piggy bank 2.png|thumb|373x373px|When you click on the Piggy Bank]]

−

'''Piggy Bank''' is an in-app-purchase-exclusive feature in ''[[EverWing]]''. You can buy a premium [[sidekick]] that is Pigmalion, which evolves into Pigmalionus and then Pigesquire.

+

'''Piggy Bank''' is an in-app-purchase-exclusive feature in ''[[EverWing]]''. can buy a premium [[sidekick]] that is Pigmalion, which evolves into Pigmalionus and then Pigesquire.

 
 
 

This feature allows player to get said sidekicks with earned gems that can be gotten in Tournament mode. The player will get 1 gem every 100 coins.

 

This feature allows player to get said sidekicks with earned gems that can be gotten in Tournament mode. The player will get 1 gem every 100 coins.

 
+
 
+

The player may have the second option besides purchasing with cash; the blue purchase button may be seen as "UNLOCK" instead, which leads to the page that the player need their 8 friends whom are brand new to join the game via the EverMemes posted in their own Timeline or Messenger messages in order to claim the rewards.

 
 
 

{{stub}}

 

{{stub}}
---
Revision as of 18:19, 5 June 2020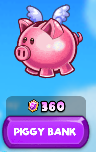 Introducing the Piggy Bank! ✨🐷💰 Save Gems as you play by upgrading your Guardians and buying Eggs. ✨💎 Purchase the Piggy Bank to receive 360 Gems + all of the Gems you've saved, and receive an exclusive Dragon, Pigmalion! ✨🐷🐉
Piggy Bank is an in-app-purchase-exclusive feature in EverWing. The player can buy a premium sidekick that is Pigmalion, which evolves into Pigmalionus and then Pigesquire.
This feature allows player to get said sidekicks with earned gems that can be gotten in Tournament mode. The player will get 1 gem every 100 coins.
The player may have the second option besides purchasing with cash; the blue purchase button may be seen as "UNLOCK" instead, which leads to the page that the player need their 8 friends whom are brand new to join the game via the EverMemes posted in their own Timeline or Messenger messages in order to claim the rewards.